For families with children under 18
New check-ins by appointment only.
Appointments (541) 389-2820 ext. 22
Please review our Rules and Guidelines for Families
What we offer residents:
Shelter: We have five units exclusively for parents with minor children.
Families are served their meals before the adult residents and eat in a separate dining room located in the family building.
School-aged children are able to attend their existing school within Central Oregon.
Case management
On-site laundry facility
Access to personal hygiene products and clothing
Weekly access to onsite AA (Alcoholics Anonymous) and NA (Narcotics Anonymous) sessions
Access to community resources
A positive and dignified environment combined with guidelines and accountability 
What to expect:
In a family, children over the age of 18 are assigned to the single adults building.
Sobriety is enforced by drug and alcohol testing done on site.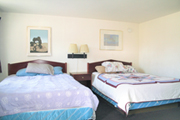 Typical family Room
Each room has two queen beds and two twin beds. A bathroom, towels and bedding are provided.