For adults over 18
New check-ins 1-4 PM daily.
More information (541) 389-2820 ext. 18
Please review our Rules and Guidelines for Single Adult Residents
What we offer residents
Shelter
3 meals a day
Case management
Access to personal hygiene products and clothing
On-site laundry facility
Weekly access to onsite AA (Alcoholics Anonymous) and NA (Narcotics Anonymous) sessions
Access to community resources
A positive and dignified environment combined with guidelines and accountability
What to expect
The minimum age is 18 years.
Residents are required to be off premises Monday-Friday from 8:30 AM to 4 PM.
Residents may be allowed to participate in an on-site Work Experience Program.
Sobriety is enforced by drug and alcohol testing done on site.
Residents are subject to a curfew.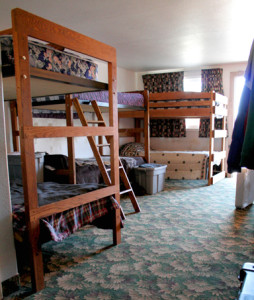 Typical adult singles bunk room
Each room at the Inn has three bunk beds with a maximum occupancy of six residents per room. We provide two totes (one lockable) and a designated shelf for toiletries, towels and washcloths for each resident. Every room has a bathroom.